Welcome to Safeclean Bristol
Quality Carpet and Upholstery Cleaning from the Furniture Care Experts
Safeclean Bristol are your local experts in carpet and upholstery cleaning, providing our services to all those from Bristol to Weston-Super-Mare. Working alongside another technician, we endeavour to deliver the best service possible to every one of our customers.
Being part of the UK's leading carpet and upholstery provider means that here at Safeclean Bristol, we use the most effective cleaning techniques, tools and products to achieve the best results. Our customers come from Clifton, along the suspension bridge to Leigh Woods to Redland and Cotham.
Our specialist cleaning services include; overall cleans, stain removal and protection – to help your newly cleaned furnishings stay as good as new!
So whether you have a red wine stain on your cream sofa, or mud's been walked into your carpet, we at Safeclean Bristol are on hand to help your carpets and furnishings get back to their best again – just give us a call!
Our Mission Statement
A local carpet and upholstery cleaning company who is committed to providing a cleaning service that consistently meets the needs and expectations of its clients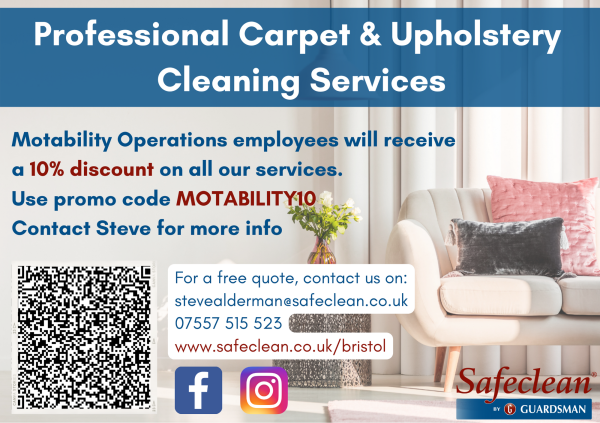 Why not give us a call today for a free no obligation quote.
Scan the QR code below for easy access to our contact information
Open the camera on your device, position the camera so the QR code is in frame. Your device will automatically scan it. A notification will then appear at the top of your screen with the link to the QR code's content. Tap this and you'll be brought to it.
What are you waiting for?
Get in touch today!
The information you provide will only be used to handle your enquiry.
Don't just take our word for it!
Just had our carpets cleaned by Steve Alderman, multiple stains all vanished and looking lovely and new! Saved £££'s on a new carpet. Great service and very friendly. Fully recommend, thank you!
Mrs H Cole, Moorend
Really good service, I've used Steve twice now and every time he has got out those stubborn stains that could never be removed from usual cleaning tricks! Great friendly reliable service! Quick on replies and very comparable pricing! Thanks again!
Mrs John, Filton
Steve was very punctual and polite. Very happy with his service.
Mrs G, Bristol
Take a look at some of our amazing results!
An old bedroom carpet
This 15 year old carpet was given a new lease of life after a deep clean.
£££ saved said the customer !
No need to buy a new carpet now!
A dogs favourite place to sleep
Well used in lockdown!
Part of a cream suite that needed a freshen up!
Landing looks totally different!
Carpets had never been cleaned - take a look at the difference in this!
Frontroom carpet transformation
This customer was not expecting the result they got!
"Try your best, I know it's not going to come out"
Now their carpet will go well with their new sofa that's arriving tomorrow!
Vinaigrette spill
This could of cost the customer a lol of money as the landlord of the property wanted compensation. But a quick call to us and the stain was removed
Dye Transfer
Bought yourself a new pair of jeans did you? Worn them for the first time? On the left is what can happen. But on the right, see what we can do!
Kids play slime!
This sofa had a lucky escape from some hardend slime!
If you are ever in a sticky situation we can deal with it!
Red Wine Stain Removal
You're relaxing on your sofa and disaster strikes! After calling Safeclean this stain looked like it never even happened.
Dry Cleaning a cotton velvet sofa
Some fabrics are more delicate and can not be cleaned by the traditional methods these fabrics need to have a dry cleaning solvent applied. This sofa has a cotton velvet fabric. One image shows the half cleaned and the other fully cleaned.
Red Wine Stain Removal
You're relaxing on your sofa and disaster strikes! After calling Safeclean this stain looked like it never even happened.
Signup to receive special offers, discounts and news!
The information you submit will be used to provide exclusive offers, discounts and news from Safeclean
Safeclean Franchisees
Bristol IMAX Theatre Carpet Clean
Safeclean News
Safeclean Special Recognition Award