Welcome to Safeclean Walsall
Quality Carpet and Upholstery Cleaning from the Furniture Care Experts
At Safeclean Walsall we pride ourselves on the quality of the work we provide with every job. Whether it's carpet cleaning in Telford or stain removal in Donnington, Safeclean Walsall customers can be sure they will receive the best customer service and unrivalled results with every appointment.
Being a part of the UK's leading carpet and upholstery cleaning company provides Safeclean Walsall with intense training. This specialist cleaning knowledge and passion to provide our customers with fantastic results is why we have built up a large base of happy, repeat custom.
Covering all areas in and around Walsall, we are happy to provide a free, no obligation quote, promising that the price quoted is the price you'll pay.
What's most important to us at Safeclean Walsall? Ensuring every one of our customers are happy with the results we achieve. We achieve such a high level of customer satisfaction through our high attention to detail – just read our reviews to see how happy our customers are!
Areas covered:
Walsall & Wolverhampton
Why not give us a call today for a free no obligation quote.
Scan the QR code below for easy access to our contact information
Open the camera on your device, position the camera so the QR code is in frame. Your device will automatically scan it. A notification will then appear at the top of your screen with the link to the QR code's content. Tap this and you'll be brought to it.
What are you waiting for?
Get in touch today!
The information you provide will only be used to handle your enquiry.
Don't just take our word for it!
Brilliant job, friendly person.
Mr Atack, Shropshire
Rob's a lovely guy.

Mr Roberts, Telford
Good work. Prompt.
Chandra, Wolverhampton
Rob has done a very professional job on my corner sofa and I found the rates very reasonable.
He was in the property probably 3 hours and took the sofa completely apart to reach every nook and cranny. He even cleared up all the old dog toys and rubbish that has collected under it over the last 12 months.
I'm not even sure why you'd bother paying 20 quid to Fred in the Shed when Robs prices are very reasonable and you know you've got all the back up and aftersales.
Will use again when the dogs undoubtedly destroy something else in the house!
Mr Parker, Wolverhampton
He did an amazing job and the carpet looks as good as new! Definitely recommend him to anyone!!
Mrs. Patel, Birmingham
Robert's carpet cleaning certainly has the WOW factor. Extensive building work left our cream carpet ingrained with builder's dust, a stain from a leaky radiator, plus everyday grime. It came up as clean as the day it was laid. Thank you!
Mrs Carrier, Stourbridge
Excellent service - I have used other carpet cleaning companies but this is by far the best! Such attention to detail and the carpet looks new! Thank you!
Mrs Shepherd, Wolverhampton
Thank for the job you done every one happy with it , the carpet looks new and feel we have bought a new carpet
Thanks for saving us a lot of money to buy new carpet.
Many thanks again
Friad Jalal, Wolverhampton
I had Robert for the first time to do my large corner sofa ,2 seater sofa, cuddle chair and carpet and I can honestly say we have never had such a professional clean. Having children and an extremely large dog our furniture gets a lot of stains, marks etc so we have our furniture cleaned every 6 months. We have never had such a brilliant finish. It is like new and we have never had that with other cleaners truly the best we have ever had so we highly recommend him. We would never go with another cleaner after the results. Amazing.
Mrs Gregg, Shrewsbury
Excellent service, friendly, thorough, punctual and good value. Will definitely use again and would recommend to others.
Mrs McAleese, Wolverhampton
Very quick service. Very polite technician.
Mr Hawkins, Walsall
Great service thanks.
Mrs Walmsley, Telford
Overall excellent service, knowledgeable and polite.
Mr Lindley, Burntwood
Quick and efficient.
Mrs Garnett, Telford
Great service, lovely clean sofa.
Mrs Adams, Shropshire
Great communication and polite service thanks.
Mr Clayton, Telford
I'm really pleased the stain has been removed. Thanks.
Mrs Jesson, Wolverhampton
Removed stain completely.
Mr Khan, Walsall
Book Safeclean Walsall for a day for only £300
Safeclean Day Clean
Offer description
For a limited time you can book Safeclean Walsall for £350 a day. Carpet, upholstery, mattress, rug, curtain cleaning and stain removal services are included.
This offer can help you save money on making sure your home is clean and fresh. Improve the air quality within your home. Carpets and upholstery gather more dirt and dust than the average person might expect. We all enjoy fresh sheets on the bed, imagine combining that with a freshly cleaned mattress.
This offer could involve the cleaning of all lounge upholstery, all the mattresses and all carpets in your home (depending on size) . Based on a typical 3-4 bedroom house. If the technician manages to to finish all of those items he will let you know and ask if there are any more cleaning services which you may want to take advantage of, maybe there is a rug you want cleaning too.
Call or message Rob on 07397 196 629 to book now.
Terms and conditions
Booking for a day is from the hours of 9am to 5pm (8 hours). This offer cannot be split into 2 days. The technician will take a break of up to 1 hour and half. Offer excludes protection. There is not limit to the quantity of items you can have cleaned, the only limit is time. This offer requires inspection by the technician before committing to clean. This offer is available to domestic customers only.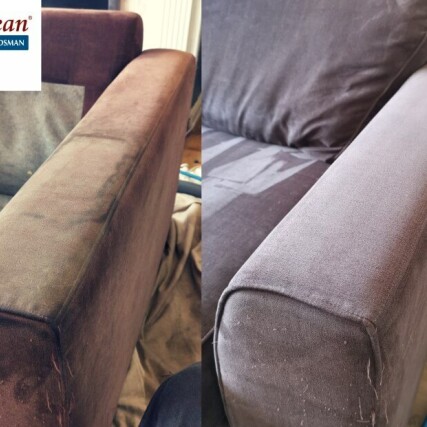 Take a look at some of our amazing results!
Sofa Stain Horror
What a mess... what a result.
Wax on, wax off
This stain was caused by someone attempting to move a wax burner whilst it was still hot, take a look at the results.
Nail varnish
Nail varnish can be a tricky stain to get out, not for Safeclean Wolverhampton.
Amateur stain removal
These water marks were caused by the consumer attempting stain removal with a variety of products purchased from the supermarket. The stains were removed successfully. The water marks were caused by a build up of dirt underneath the fabric, floating to the surface after contact with liquid.
The only way to resolve this is to remove the dirt buildup up from underneath the fabric.
Dirty sofa cushion
This was one dirty sofa. The customer wanted my professional opinion on whether or not the sofa was beyond saving. She was delighted with the results.
Paint Stain
Don't worry no one got hurt, its just paint! The paint had soaked in deep into the carpet and was quite a challenge. Training, solutions, equipment, a variety of methods and persistence were all the essential to removing this stain.
Crush Marks
This crushed velvet upholstery had some heavy crush marks. Crush marks on delicate fabrics like this are offer caused by general use. What a result.
Mattress SOS
You may be interested to know that Safeclean Wolverhampton rinses mattresses with natural solutions just to ensure that it is skin friendly after drying. It's not always about using professional products, but using the best products for the job.
A very dirty poof
As you can see this poof is very dirty. Food, drink, dirt and pets contributed to this mess. This job can be really satisfying when the results are as good as this example.
Hair Product Stain
Hair spray, wax or gel stains like this are quite common. This stain was particularly bad. Over time dirt had built up and the hair products ensured that water based products would not help to remove this stain. Professional training and solutions used by Safeclean Wolverhampton successfully removed this horrid stain without damaging the leather upholstery.
Leather sofa cleaning
This Italian leather sofa really came up really well after being cleaned and protected. The water marks are the result of a leaking roof.
Carpet shop flooded
The cold weather of March 2018 burst the pipes in the bathroom causing this flood. In the before picture you can see the ceiling lights reflecting of the water. Literally hundreds of liters was extracted. The relieved owners opened their carpet store the very next day.
Felt tip on old teddy bear
This 60 year old bear was stained by a 7 year old boy with a felt tip pen. Not a problem for Safeclean Wolverhampton.
Make-up Mess
This was a combination of nail varnish, sudocrem, mascara and a little girl. The results speak for themselves.
Mattress Mayhem
Another successful mattress clean. This service is especially beneficial for those with skin conditions and allergies.
One Happy Customer!
The customer used to run a carpet cleaning business. He hired me as he said that it would take him a whole day just to clean the lounge. I cleaned the large lounge, large landing and stairs within 4 hours. He was very impressed.
Dog urine in carpet
An elderly, unwell dog had urinated a couple of times on this carpet. The customer had used washing up liquid to attempt an amateur stain removal which unfortunately made it worse. Safeclean Wolverhampton was happy to help.
Really dirty mattress
This mattress was extremely dirty. I would normally recommend replacing this mattress but instead provided the cleaning service to see what we could achieve for the customer. What a result.
Sudocrem
A toddler had fun playing with Sudocrem on this sofa. Notice the love heart drawn to the top left of the cushion. Happy to help.
Red Wine Stain Removal
You're relaxing on your sofa and disaster strikes! After calling Safeclean this stain looked like it never even happened.
Red Wine Stain Removal
You're relaxing on your sofa and disaster strikes! After calling Safeclean this stain looked like it never even happened.
Signup to receive special offers, discounts and news!
The information you submit will be used to provide exclusive offers, discounts and news from Safeclean